Team-Twilight Coverage: Twilight Convention takes Cincinnati
This weekend, we (Angie and I) had the pleasure of hitting up the Official Twilight Convention in Cincinnati. On the docket were BooBoo Stewart, Tinsel Korey, Kiowa Gordon, Charlie Bewley, and Peter Facinelli. It was the first time that TwiTour has been in the area and it had a great turnout. We know a lot of our readers will not ever have the chance to attend the official convention, so we wanted to share a detailed retelling of our experience!
It was a fun weekend spending time with the fans and fellow fansite owners. We also had the opportunity to interview a few of the cast members. You can keep an eye out for those interviews in the coming weeks. In the meantime, we have plenty of photos to share of the cast, and anecdotes from our live tweeting, in case you missed it.
The ladies of The Hillywood Show, Hilly & Hannah, MCed the weekend. Here they are in their Alice and Kristen costumes.
Tinsel Korey looked beautiful in her solo Q&A panel on Saturday.  She gets pretty silly during her panels.
A few bits from Tinsel's panel:
*Tinsel loves all types of music. Right now she is enjoying Rihanna and Adele's "Someone Like You."
*She refuses to choose Team Edward or Team Jacob. She does say that if she had two hot guys fighting over her, she'd pick both.
*Tinsel doesn't get recognized much in public because the scar on her face when she plays Emily gives her some public anonymity.
The site owners of various wolf pack fan sites took the stage for a panel. The panelists got some great questions from the audience and then a few members of the audience took part in a howling contest. The winner won a photo op with Kiowa, Tinsel and BooBoo. The sites involved were: LovinChaske.com, KiowaGordon.net, TeamTaylorLautner.com, and JuliaJonesFans.First-Beach.net.
During Charlie Bewley's first Q&A of the weekend, he showed off his duds from TJ Maxx. It turns out he'd forgotten to bring any luggage with him and had no clothes. He'd gone to stock up at TJ Maxx and Walgreens!
A few bits from Charlie's panel:
*Charlie said Rob's name over and over to rile up the crowd. Then he resorted to what he said was his nickname for Rob: P****-whipped Pattinson
*Charlie's weirdest fan interaction was when he found out a fan had tattooed his face on her thigh.
*Charlie confirmed that his dramatic entrance in the end of Eclipse was him just being a showoff. He'd have mooned the Cullens if he could've.
At the Volturi Ball, the fans were dressed to the nines! The party started at 11 and went on for quite a bit. The celeb guests (BooBoo, Tinsel, Kiowa and Charlie) seemed relaxed and enjoyed the time of dancing, chatting with fans, and generally having fun. The ladies from The Hillywood Show were hosting the event. There was a contest for the best dressed (winner pictured below) and a centerpiece contest (Angie's favorite is pictured below, too).
On Sunday, the day got going with a panel from Tinsel Korey, Kiowa Gordon and BooBoo Stewart.
A few tidbits from the Kiowa/Tinsel/BooBoo panel:
*Booboo's favorite rock band is Boston. Tinsel says My Chemical Romance. Kiowa chooses the Beatles.
*Booboo says he'd like to be a wizard vampire. Tinsel pointed out that he just needs to be Cedric Diggory.
*Tinsel's favorite food: Steak & mashed potatoes. BooBoo likes Chinese food. And Chicken and Waffles. Kiowa loves Roscoe's Chicken & Waffles.
*Tinsel says her favorite Twilight soundtrack is the original because of Robert Pattinson singing on it.
*Kiowa says before he started acting he worked at AMC Theaters. Tinsel did landscaping.
*Tinsel spilled the beans that Charlie Bewley auditioned for Captain America.
The ladies of the Twilight Lexicon hit the stage a few times during the weekend to talk about their experiences. These ladies have experienced a LOT of amazing stuff!
Charlie Bewley had a second panel on Sunday. This time, he brought two of his buddies along and there were a few hijinks that followed as a result.
A few tidbits from Charlie's second panel:
*Charlie confirmed that he did indeed audition for Captain America, but didn't expect to get it. He says "everyone" auditioned for that role.
*If Charlie Bewley could be anyone besides himself, who'd he be? He picks Jesus.
*Before acting, Charlie was a taxi driver, a henna tattoo artist, pole dancing poll salesman, a bartender, a waiter.
*Charlie tells about pranks on set where everyone was sticking Team Edward/Team Jacob signs on other actor's backs. He says he stuck Team Edward on Rami Malek's back and went to take a picture. Unknowingly at the time, someone was also sticking a Team Jacob sign on his own back at the same time.
*He wanted to know what fans would actually do if they got their hands on him? He took a poll asking how many of the audience would rip off their clothes, jump on him, and lick.
Peter Facinelli wrapped up the weekend onstage on Sunday afternoon. The hall was packed, as usual for when Peter does his Q&As. This ended up being a very special one, as he went well over his allotted time, and spent time out in the audience.
A few tidbits from Peter's panel:
*Peter talked about Carlisle Cullen's hair evolution from Twilight to Breaking Dawn.
*If Peter had to be stuck on an island with another cast mate, he would not pick Taylor because Taylor would just walk around all day with his shirt off. Instead, he'd pick Kellan to crack coconuts!
*Peter has a smurf collection. Says his assistant recently put all his smurfs in wierd places! Peter has a "bucket" of smurfs.
*Peter would like to work with Sean Penn, Denzel Washington, Robert Deniro, Scarlett Johanson and Jennie Garth!
At the very end of the day on Sunday, during Peter's time on stage, Charlie Bewley jumped on stage and invited the fans out to pose with his Toyota Prius that he and the other guys are driving around for their research for their upcoming film. Here is a great video of it, put together by our affiliate, Charlie Bewley United.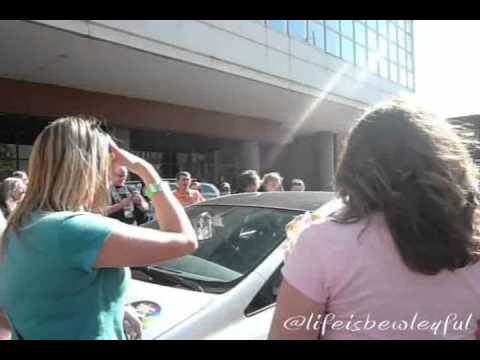 Sunday 28 August 2011 Charlie Bewley asked the fans of the Cincinnati TwiTour to join him and Steven Grayhm outside to take a picture with their Toyota of Santa Monica Prius. The guys have been taking pictures across the country documenting their trip and according to Charlie there was not a more ridiculous situation to put the Prius in than having the whole fandom in the picture with the car. We agree
The guys posted this image on their Facebook page of all the fans with the car. Great pic!
Thanks to Creation Entertainment for a fun weekend and for their hospitality. See whether a Twilight Convention is scheduled in your neck of the woods at TwilightConvention.com.
Copyright (c) 2009-2010 Team-Twilight.com