"Twilight" Stars Take Over Chicago for Twilight Concert Stop
Photos:
View all of the images at TVC
Videos: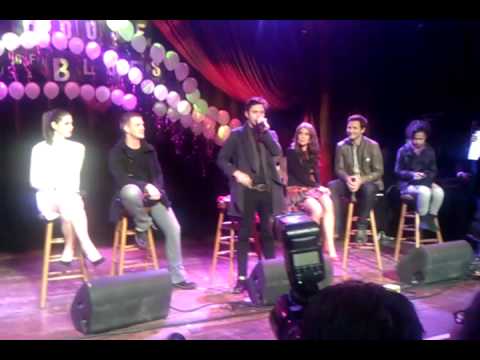 via Twilight Lexicon
Interview with B 98.5 Morning Show:
AJC: Are you sort of sad that this is the next-to-last "Twilight" movie?

Greene: Maybe we're in denial. We're still going to see each other. It's not over yet!

Reed: We stepped into this knowing how many books there were. We knew what we were getting into.

Greene: It's nice to finish out the franchise.

AJC: Talk about the dynamics on the set as the series became so incredibly popular.

Rathbone: It's been an incredible learning experience. I've been able to learn from an amazing cast. I've heard stories where the love of the books has brought a mother and daughter closer.

Reed: It did change. The first movie was so much more innocent. When you're making a movie you're just hoping one person will watch it. There is a hierarchy on set. It would be weird to say we all have the same size trailers. We all still look at each other as equals though. As wonderful as Rob, Kristen and Taylor are – and this is their movie – everyone on this entire franchise has to work hard. What's important is to focus on doing good work.

Bewley: This has really changed Kristen's career. Rob is so upright and well-spoken. He knows when he walks in a room he commands attention, and everybody wants something from him.

Greene: We are like family. It's not something most people have experienced. For me, it was one of my first gigs. We all kind of grew up a little bit. We're all extremely thankful to have been involved in this. We're all going to miss each other.

Rathbone: It's important to realize we are artists. What we do is more recognized because of what we do. People are artists in their own right. We're no different than anyone else.
Read more here!
Copyright (c) 2009-2010 Team-Twilight.com