Mia Maestro talks soundtrack collaboration at the Breaking Dawn premiere
Twilight Poison was able to speak to Mia Maestro on being part of the Breaking Dawn Part 1 soundtrack. Watch the interview below.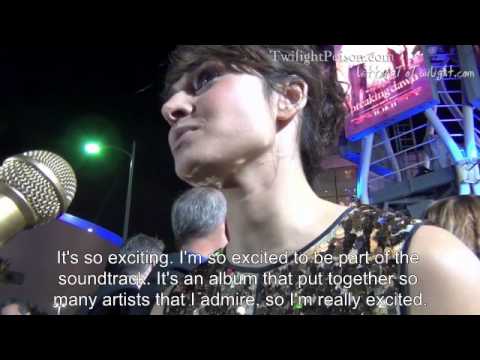 There's a lot of fans from Mexico, Venezuela… Did you meet them? Did you get to talk to them?
Yes, there's fans from Argentina, Venezuela, Colombia, Puerto Rico. It's
such an international group of people.

Had you seen anything like this before?
Yes and no. Sometimes. I mean, I've been at huge festivals like Cannes, but these fans are so special because they know everything. They know the story so well, they know the characters so well; they're so passionate for the story that is quite impressive.

And how do you feel about singing the first song ever in the Twilight saga in Spanish?
It's so exciting. I'm so excited to be part of the soundtrack. It's an album that put together so many artists that I admire, so I'm really excited.

And how did the collaboration happen with the soundtrack? How were you asked to sing a song with the same title as Bruno Mars?
The same song as who?

No, the same title than Bruno's song. Your titles are practically the same thing but the style is the opposite!
The complete opposite, and the song title thing is actually a coincidence, Bruno's "It Will Rain" and "Lloverá"… I actually think the soundtrack people didn't even realize that the titles said the same thing Bill Condon heard my songs, my album comes out next year, and he took all the songs and told me that he would see if any of the songs could fit into any of the scenes and he chose "Lloverá" for a beautiful honeymoon scene in Brazil.

When is your album coming out? What's the genre?
The album comes out in January or February and is bilingual. Half in English and Half in Spanish.

Awesome! So the fans who liked your music thanks to the soundtrack will have something to look forward to.
Yes, this album is very different. There's songs that are more upbeat, and the rest of the songs fall more into the style of "Lloverá".
Copyright (c) 2009-2010 Team-Twilight.com