Exclusive: 'Pretty Little Liars' star Ashley Benson talks 'Twilight'! @ashbenzo
Ashley Benson, who plays Hanna on the hit ABC Family show Pretty Little Liars, attended the premiere of The Twilight Saga: Breaking Dawn, Part 1 last month in Los Angeles. The starlet hit the carpet in an adorable black dress by Tibi. We had the exclusive opportunity to ask her about the premiere, and her love for Twilight! Check out the interview below, along with a video of Ashley strutting her stuff on the black carpet.
We see you very active on facebook and twitter. How can our fans follow you?
Fans can follow me on twitter at Twitter.com/ashbenzo and on Facebook at Facebook.com/ashbenzo
I love to tweet! Slightly obsessed by it and all my friends are on it too so it's fun to tweet back and forth with them. I love connecting with fans and reading their comments and tweets, and will occasionally do a live UStream chat which are always fun. I also blog and post all my photos to my website www.ashleybenson.net.
What did you think of the Breaking Dawn black carpet? It's really different from the usual premiere event, I'd guess.
Loved the black carpet. Walking it was CRAZY. The whole Twilight phenomenon is just something else. What I appreciate the most is the die hard fans, they know everything there is to know about all the movies, all the books, and will camp out for days for the premiere. Love it.
What did you think of the film?
Intense! It was definitely a great experience. Being in the theatre watching the second to last movie of the franchise premiere to the world and all the people who love it, its incredible to describe. The movie was great and I love watching how the characters have evolved since the first film.
Are you a Twihard? If so, what do you love about Twilight in general?
Total Twihard! I like the love and romance of the story. Bella having two guys who are madly in love with her and will do anything for her… what girl wouldn't like that? lol
Are you Team Edward or Team Jacob?
Team Jacobbbbbbbbbbb!!!!
With Pretty Little Liars, you are familiar with working on a book-to-screen adaptation. I know a lot of our cast and filmmakers feel a lot of pressure dealing with a book that is already popular. Do you feel that kind of pressure too?
I think there is always a pressure when you adapt from a book, particularly when Pretty Little Liars and the follow up books are so incredible and have such a dedicated fan base. But it's up to you to add your own flair to the character while also staying true to the book and script… and hope that the fans like it!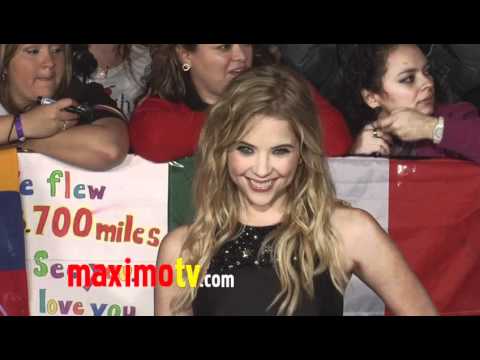 Thanks to Ashley for taking some time to chat with us!
Interview by Lindsay
Copyright (c) 2009-2010 Team-Twilight.com